Smriti Jaiswal
Getting good scores in mocks never happens with anyone, it's a consistent process, and focusing on your mistakes that help eventually. Siddharth Mehta sir was amazing at teaching elimination, which was a part of CR Nuggets.
AIR 36, CLAT 2022
Aakansha Chawla
GK is unpredictable, so the best we can do is keep practicing. If it is hard for you, it is hard for everyone. I would like to thanks all our teachers at Career Launcher for keeping us motivated throughout.
AIR 43 CLAT 2022
Vedant Bhardwaj
It took a long time for me to come to terms with the results. Career Counselling helped me choose this career, and take up the two year program at Career Launcher.
AIR 53, CLAT 2022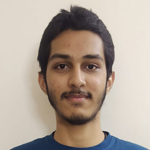 Vinayak Swaroop
Jyoti ma'am helped me in improving my reading speed. Siddharth sir helped us alot during the bootcamp. 5-6 months into it, I was prepared for CLAT with the help of materials provided by CL.
AIR 68, CLAT 2022